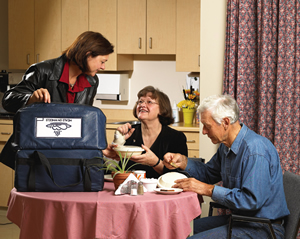 Meals on Wheels
Meals On Wheels supplies hot and frozen meals for a minimal fee to residents to help them live independently in their own homes. This can be short or long term. This can take approximately two days to set up and start with our program.
Our hot meals consist of soup, salad, and entrée and dessert. Hot meals are available Monday to Friday at lunch time. Frozen meals are available for evening and weekend meals. Some special diets can also be accommodated such as diabetic, minced, low fat, low cholesterol, etc. ask for details.
Meals on Wheels are delivered by volunteers that also provide friendly contact and a security check to clients who are homebound. Meals will not just be left at your door for food safety reasons. If we have not been notified that you will not require a meal and there is no answer we will try to get in touch with you or an emergency contact to ensure that everything is all right.